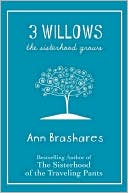 Did anyone else not know there was something more to Ann Brashares other than The Sisterhood of the Traveling Pants?
Well, there is. Brashares has writte two other books besides the major four: The Last Summer and 3 Willows. 3 Willows as just published this year.
The subtitle of 3 Willows is "The Sisterhood continues." I thought that maybe this was a book telling what happens to the sisterhood when they are all grown up, but it is not. 3 Willows still takes place in Bethesda, where Carmen, Lena, Tibby and Bridget live, but this book focuses around another circle of much younger girls.
Jo, Polly, and Ama are best friends. They are growing apart. The summer after eigth grade, they go on their seperate adventures. They do not have a shared pair of pants, but 3 Willows is similar to the Traveling Pants books with the themes it covers.
3 Willows isn't totally Pants free. The Sisterhood are celebrities among the characters in 3 Willows. Effie, Lena's sister, plays a big part in Jo's story. Polly babysits Tibby's siblings.
I woudn't let a preteen read the Traveling Pants books, but this is a great book for 11-13 year olds. They'll be itching to read Brashares's other books after reading 3 Willows!
Grade: B